NEILSON'S IN PIONEER DAYS
Neilson's store was founded by William Smith Neilson, born in 1812 in the mountains of Green County in East Tennessee. He was the oldest son of a widowed mother with a large family, poor, and no school advantages. He began his career as a merchant by working for an uncle in a store that was later sold to him.
In 1838, William Smith Neilson decided to migrate to new land being opened by the U. S. government. He loaded his goods on two ox-wagons and set forth. He considered locating his store in Memphis, but decided to continue to Oxford, Mississippi, where the University of Mississippi had recently been established. His first store was a small log cabin on the North side of the Courthouse Square. He stocked groceries, hardware, drugs, even coffins- everything in a store a pioneer family might need.
William Smith Neilson prospered along with the town. He improved his store, moving it several times, always upgrading. He located first on the North side of the square, then on the South side, and finally on the West side.
THE CIVIL WAR
In 1861 war came. During the month of December 1862, General U. S. Grant, at the beginning of his Vicksburg campaign, occupied Oxford with 30,000 men. Mercantile business came to a standstill. Neilson had earlier converted his money to gold and buried it in the garden of his yard. During 1863 and 1864, the Confederate cavalry, under the command of General Nathan Bedford Forrest, used Oxford as a staging area for his raiding actions. In retaliation for Forrest's raid on Fort Pillow, north of Memphis, Union General Andrew Jackson (Whiskey) Smith, with a large force came to Oxford on August 22, 1864, and in the course of one day, completely unopposed, burned the County Courthouse, the Depot, and all businesses on the square, except one, and many fine residences in Oxford. Neilson's store was burned, but thanks to buried gold was able to resume operations in 1866. There has been no interruption of store business since that date. Thus, Neilson's survived the Civil War, something few businesses were able to do.
A NEW CENTURY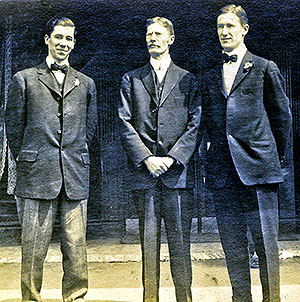 Joseph Edwin Neilson, son of W.S. Neilson, was born in 1859, one year after his parents moved into their ante-bellum home that still stands today. After his father's death J. E. took control of his father's business.
J. E. Neilson was a talented, experienced, and progressive merchant. In 1897, he constructed a new store building, 75' x 132', on the East side of the Square, which is the nucleus of the present operation. He divided the store into departments and concentrated his inventory on clothing and related merchandise. He became enormously successful, building his business on Quality, Style, and Dependable Service. Neilson's became a widely patronized store throughout the mid-south and an institution within the community.
Partners were taken in in 1914, J. E. Neilson's son David Glenn Neilson, and nephew Herman Glenn, changing the name to The J. E. Neilson Company. In 1930, Will Lewis, no relation, was taken into the firm after working in the store since 1912, when he began clerking as a bundle wrapper. After attending the University of Mississippi for one year, he withdrew, and began working full time in 1915.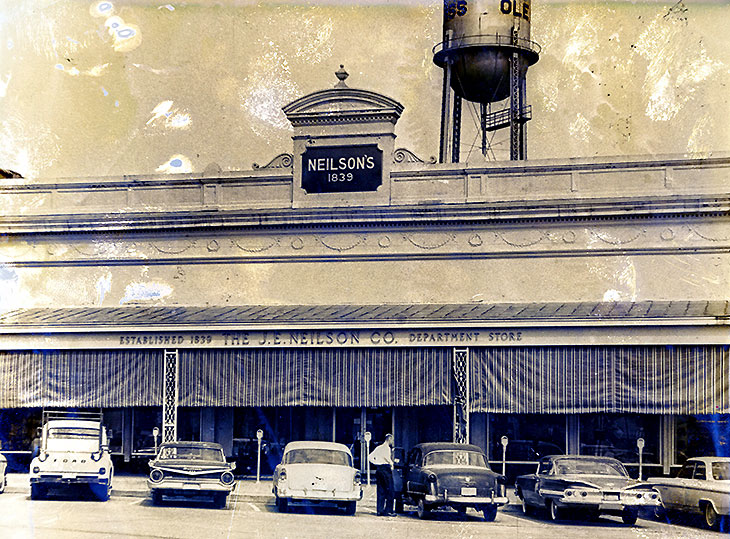 During the Great Depression in the 1930's, Neilson's store survived by careful management and loyalty of its employees. It was able to help customers on the University and County School faculties by taking assignments of pay checks when the State of Mississippi could not honor them for lack of funds. Neilson's also honored IOU's issued for deposits in local banks, and carried charges by customers who were unable to pay.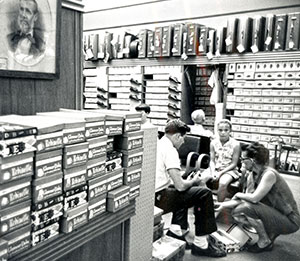 J. E. Neilson died in 1936, leaving in his will his interest in the business to his grandson, David Glenn Neilson. In 1954, Herman Glenn retired, followed by David Neilson, Jr. In 1964, David Neilson Sr., wishing to retire, sold his interest in the business and building, to Olivia Lewis Nabors and William Lewis, Jr., daughter and son of Will Lewis Sr. A new partnership was formed, now completely owned and operated by the Lewis family. Gradual modernization and expansion began under the Lewises. Olivia Lewis Nabors, after a lifetime in the store, died, leaving her portion of the business and building to Goodloe Tankersley Lewis, Lydia Lewis Myers, and Amanda Lewis Hyneman, her nephew and nieces.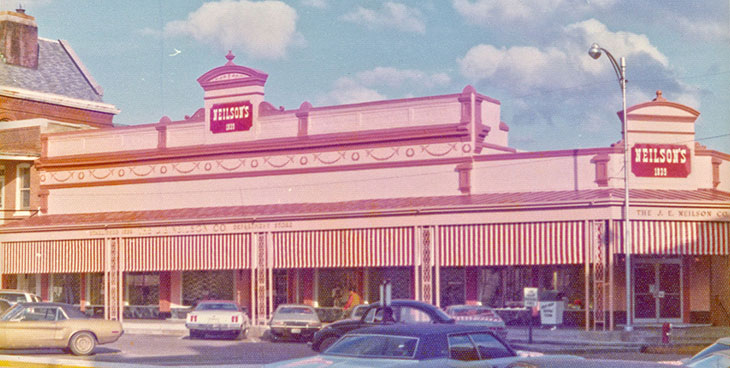 "NEEL-SON'S OR NELSON'S"
Within the memory of everyone now living, the family and the store have been called "Nelson's" by local folks. But branches of the Neilson family pronounce the name "Neel-son". In recent history, a store radio jingle pronounced the name "Neel-son's", a storm of protest was raised by local residents. The folks at Neilson's answer to either pronunciation, of course.
TODAY AND FUTURE
Ever evolving, Neilson's has become a specialty apparel and gift store that anchors the Oxford Square. It is a place where friendships are made and renewed each week, and always encourages friends to just come in to visit. We appreciate the confidence of our customers and assures them that in the future it will continue to be the goal to merit in every way their respect and good will.
175TH YEAR
In 2014 Neilson's will celebrate its 175th year in business and is proud to be THE SOUTH'S OLDEST STORE, and the nation's 16th oldest. In 1980, the store's building was placed on the National Register of Historic Places by the U.S. Department of the Interior. Neilson's has enjoyed the good years and endured the bad, but each has persevered to this day as a reflection of the proud people who have nurtured it.